FTW Merchandise
 FTW stickers printed in Walpole N.H., they look great on any FTW frame or on your bumper (Cat not recommended). Set variations are either black or white as shown in the photo. We recently added two new variations to our sets, one is a "sunburst" scheme that is bright red and fades into orange and the other is a predominately black color which fades to white with a gray area in between. One set includes 2 bottom tube "FTW" stickers, 1 headset "fighting birds" sticker and 1 "made in Vermont" seat tube sticker. Price includes domestic US shipping. (Please specify color in the "note" section during payment)

Derailleur hangers for FTW FB10 Downhill bikes, each one designed and   crafted by FTW himself here in Bellows Falls VT. Downhill season is here so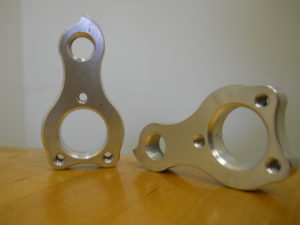 make sure you're ready.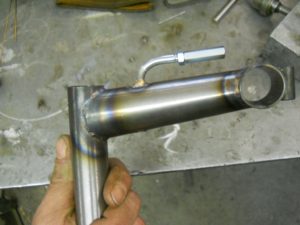 Custom Steel FTW Stem:
Custom fabricated steel bicycle stems made by FTW. Stems can be made to fit any reach, rise and steer tube. Stem shown is from a "Totally random Yeti-era" that FTW re-created to be nostalgic or something. (Note: the words 'random yeti era' are FTWs')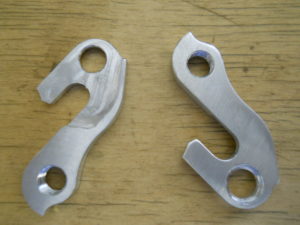 FTW Ridge Aluminum Hangers:
CNC machined aluminum hangers for the FTW Ridge hardtail mountain bike. Each one designed and carefully crafted by FTW himself here at the shop in Bellows Falls. Ready to ship out today. Even if you don't have a Ridge you can rig it to your key chain and never lose them again.